We had a BLAST last Wednesday at our Celebrity Cupcake Wars extravaganza! It was great to meet some of our cupcake poets and the celebrities did a terrific job!  Our girls in the kitchen worked their butts off getting ready for the party and we think it worked out famously.  Each team got a basket filled with 5 secret North Carolina ingredients and they had to use at least three in an original cupcake concoction.
The Yellow Team made up of Ed & Heba paired with the lovely Alysia.  They were representing the Pay It Forward Fertility Foundation, and had the "North Carolina Icons" basket.  This basket was made up of North Carolina items that are now famous all over the country including Krispy Kreme donut holes, Texas Pete, Moravian Cookies, Biltmore Wine, and Pepsi.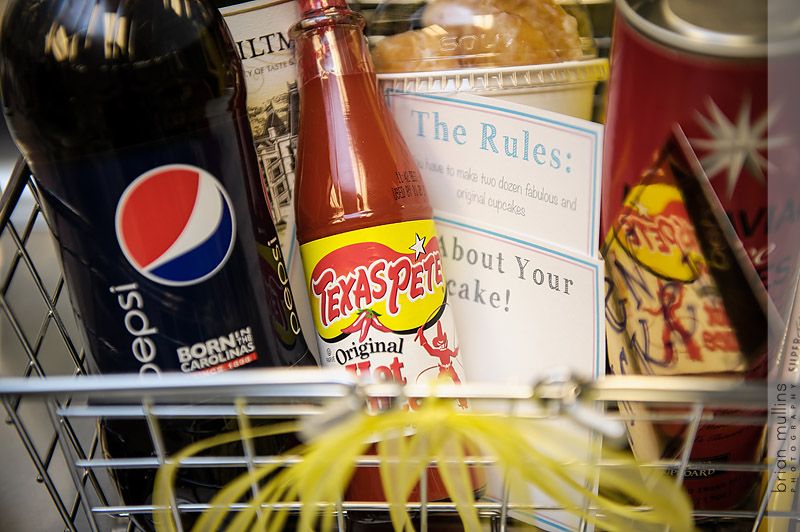 They got ten bonus points for using all their ingredients in a cupcake called "Dirty South."  It was a chocolate cake made with Pepsi and Krispy Kreme in the batter then topped with a spicy Texas Pete ganache, Biltmore Reisling buttercream, and garnished with Moravian crumbles.  It was a fabulously complex creation and super fun to eat!
The Green Team, inner of the popular choice vote, was a partnership between Mike Wheless and our resident Cupcake Princess, Kaylyn.  They represented Communities in Schools of Wake County and had the "Goodness Grows in North Carolina" basket.  This basket was made up of tasty NC farming and agriculture products like sweet potatoes, pecans, bacon, Duplin Scuppernong wine, and even Mount Olive Sweet Pickle Relish!
They also used all their ingredients!  They pulled ahead to an early lead in the competition and were the first ones to get theirs in the oven.  They ended up with a yummy "Sweet Potato Surprise" cupcake.  It had a sweet potato and pecan cake filled with a marshmallow cream and sweet relish concoction.  It was topped with a cinnamon cream cheese frosting then finished off with a scuppernong wine glaze and candied bacon.  Since they won the popular choice vote, you can come get one on Wednesdays this month and each one will benefit CIS of Wake County!  (We also think they win the cutest cupcake award!)
Team Blue made up of UNC's Coach Fedora and one of our veteran pastry chefs, Bernadette, represented the North Carolina Children's Hospital and had the "Pride of Chapel Hill" basket.  They had Chapel Hill Toffee, Top of the Hill Stout, Vintage Bee Cinnamon Creamed Honey, Chapel Hill Creamery goat cheese, and 1/2 pound of Neal's Deli pastrami.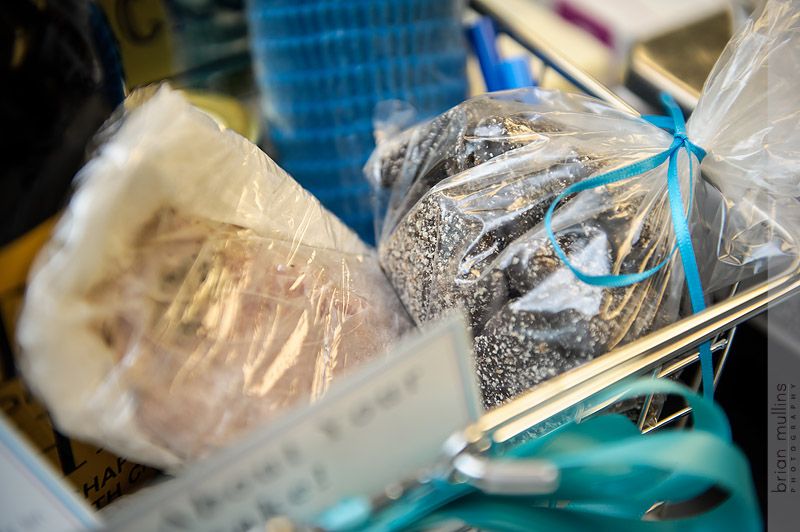 As the only team to not use all of their ingredients, they missed out on the ten bonus points, but they still made a bangin' cupcake!  It was a sweet treat named "Chapel Hill Crumble Cake."  They made a vanilla cake then added a creamed honey and cinnamon streusel.  They then filled it with sweetened goat cheese, orange vest, vanilla, and cinnamon honey.  The whole thing was topped off with a cream cheese buttercream and Chapel Hill Toffee crumbles.  Yum!!
Our Grand Prize Winners were the Purple Team!!  Debra Morgan and our very own Miss Melissa made a dynamite pair.  They rocked their "Taste of the Triangle" basket and won $1000 to be split between Alzheimer's NC and the Caring Community Foundation.  Their basket included a Videri Pink Peppercorn chocolate bar, Larry's Beans coffee, Fullsteam Brewery's Working Man's Lunch, A Southern Season homemade marshmallows, and a crock of Angus Barn's famous Cheddar Cheese Spread.
Their culinary creation, deemed "Choco Cheese Fluff"  was a wonder of chocolate cake made with Larry's Beans coffee and Pink Peppercorn chocolate then filled with A Southern Season marshmallow fluff.  Then they finished it with a beer cheese buttercream (which is much better than it sounds!).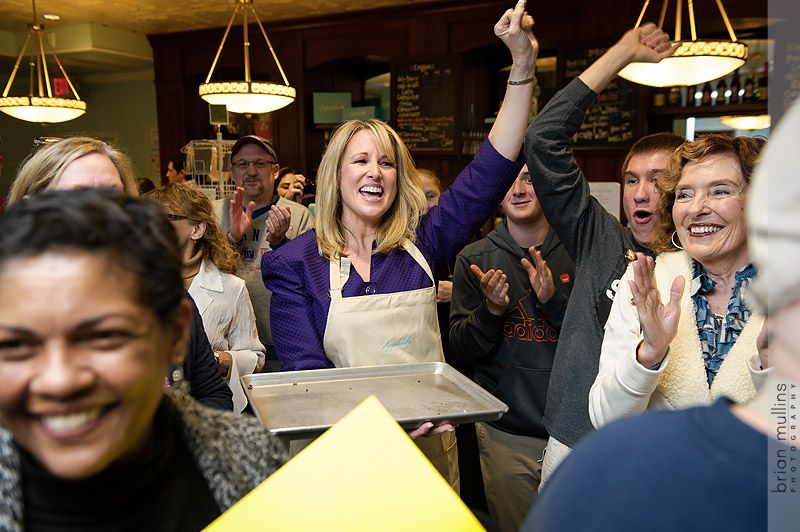 All-in-all, it was a great time!  Since everybody worked so hard, we decided that everybody was a winner and are donating $500 to all the charities!   We just want to say a big THANK YOU to everyone who helped out and can't wait to see what we'll do next year!  Did you come to the party?  Which cupcake was your favorite??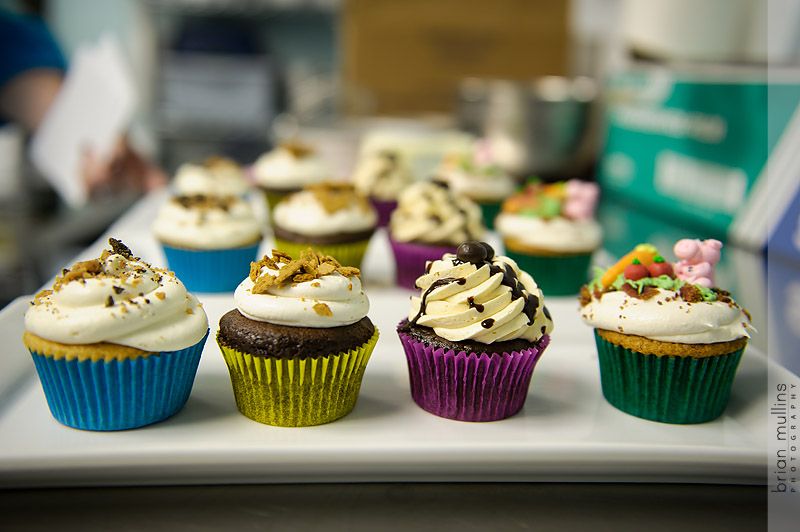 Shout outs to Brian Mullins Photography for being super-awesome as always, Island Sound for bringing the party…and making us a totally rockin' video,  Angus Barn for donating the tastiest crock of cheese I saw all night,  American Party Rentals for being the cool cats that they are, and everyone who made this a success!